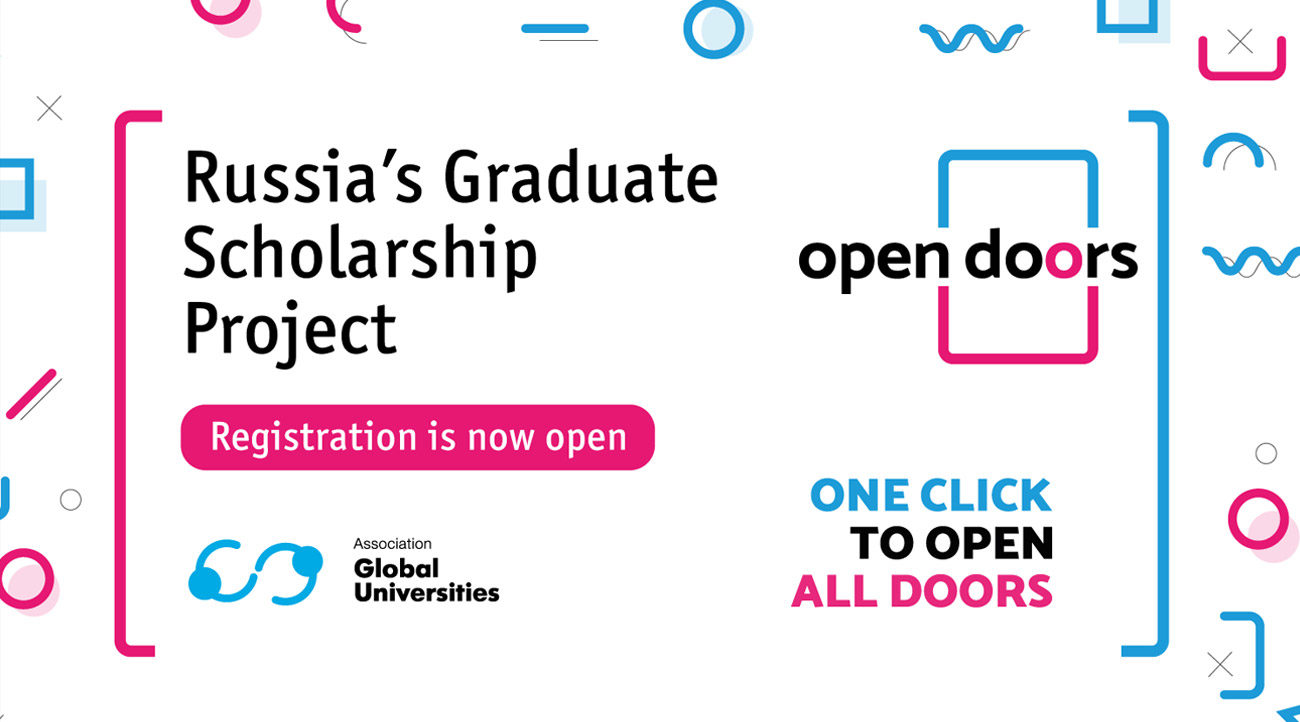 Open Doors: Russian Scholarship Project. Call for Applications
Leading Russian Universities Open Doors for International Students [DEADLINE EXTENDED]
An intellectual competition for prospective Master's students from all over the world, the Open Doors: Russian Scholarship Project, is on now! Participants compete for an opportunity to study tuition-free in one of Russia's leading universities. The contest is supported by the Ministry of Education and Science of the Russian Federation and is organized by the "Global Universities" Association.
Study Opportunities
Winners will be able to choose from over 500 Russian universities, including those in international rankings such as Times Higher Education World University Rankings (THE), QS World University Rankings and Academic Rankings of World Universities (ARWU), and 21 universities participating in the reputable 5-100 Russian Academic Excellence Project. The competition is held in English and Russian.
Who can Participate?
The competition is open to citizens of all countries other than Russia, stateless citizens, and Russian citizens who are permanent residents of other countries. It's mandatory to have a Bachelor's degree or be receiving one in 2018. It's not necessary to come to Russia to participate. All stages of the contest take place online.
Subject Areas
Participants can choose from four subject areas: Physics, Mathematics, Computer Science and Economics. Each area includes several tracks – Nuclear Physics, Biotechnology or Material Science for Physics; Economics, Management and Finance for Economics, etc.
It's possible to apply for several subject areas at the same time. Winners will be accepted without entrance exams before the general admissions process and start their education in the academic year 2018/2019.
Winners can choose a program taught in Russian or English. In case the programs they are interested in are taught in Russian only, the winning student can start with a 1-year intensive foundation course of Russian as a foreign language.
Stages of the Competition
– Qualifying round: portfolio contest
December 1, 2017 – February 16, 2018 
Participation is open to everyone.
Registration opens on November 15th! Portfolios can be uploaded starting on December 1.
– Final round: online test
March 5 – March 15, 2018
Participation is open to winners of the portfolio contest.
How are the Winners Determined?
The lists of winners and award winners will be published on the project's website. Results can also be found on participants' personal pages on the competition website. The lists of winners and award winners are planned to be published by the end of March, 2018.
– Winners
Participants who have successfully passed the two rounds and whose overall score gets them into the top 5% of the ranked list of participants are considered Winners.
– Award winners
Participants who have successfully passed the two rounds and whose overall score gets them into the top 25% of the ranked list of participants are considered Award winners. Winners of the contest can select any program track within a subject of their choice, and then apply to one or several Russian universities that have educational programs corresponding with the track that interests them.
For the applicants willing to study in Ekaterinburg either in Russian or English, Ural Federal University offers a wide range of Master's programs in all four areas of study, an intensive course of Russian as a foreign language (if necessary), alongside with wide research and international opportunities and bright social and cultural life.
The competition is supervised and co-organized by the leading Russian universities: Moscow Institute of Physics and Technology; ITMO University; the National Research Nuclear University (MEPhi); Higher School of Economics; the National University of Science and Technology MISIS; Tomsk State University; N. I. Lobachevsky State University of Nizhny Novgorod (UNN); the Siberian Federal University; Novosibirsk State University; St. Petersburg Polytechnic University; Immanuel Kant Baltic Federal University; Ural Federal University. 
For More Details & Registration:
Since 2013 Ural Federal University has been a participant of the Russian Academic Excellence Project 5-100. The key goal of the project is to maximize the competitive position of a group of leading Russian universities in the global research and education market.